ABOUT BRENNER SHOCKS
BRENNER SHOCKS IS AN AUTHORIZED SERVICE AND SALES CENTER FOR ALL ÖHLINS MOTORCYCLE AND AUTOMOTIVE SUSPENSION PRODUCTS.  IT IS LOCATED IN SIMI VALLEY IN SOUTHERN CALIFORNIA AND IS OWNED AND OPERATED BY DOUGLAS BRENNER.
Why do I only work on Öhlins dampers?
I only deal in Öhlins products because I am only interested in working on the best suspension products in the world. Many "racing" series now are spec racing and allow only one kind of damper. This is not because they have chosen the best damper, but because a manufacturer gave sponsorship money to the series promoter to use his shock and seals the shock so no one else can service them. It is for the profit of the promoter and the manufacturer, not for performance.  Öhlins does not pay to have their products used.  Even Moto GP and Superbike teams buy their products.  Any one who wants the very best and understands the importance of what a damper does will inevitably choose Öhlins. I have used them in my own personal racing efforts with great success. 
Unlike other products on the market that re-use and re-cycle parts to develop a "new" product, every new Öhlins products is produced from the ground up with no compromises to facilitate the use of parts already on the shelf. The choice of parts for any given shock makes it much more tunable that any other produce on the market. This leads to an absolutely superior product but also produces hundreds of different parts and many special tools. I don't believe that the dealers that sell and service many different brands can do a quality job on an Öhlins product. I receive Öhlins dampers all of the time that need repair because the people that worked on them evidently didn't know the product in depth or didn't have the proper tools to do the job
USE BELOW LINKS FOR MORE INFORMATION
Damper Dynamometer
Every Shock, Strut and Motorcycle Fork that leaves my shop is checked on my Roehrig Damper Dynamometer.  I believe any shop that doesn't have a Dyno should not be working on dampers.  It is an essential tool for diagnosing any problems in the Damper.  There is no other way to see if the Damper is functioning properly.  A Damper Dynamometer is also essential for any tuning and re-valving program.
Vacuum Filling Maching
Every Öhlins Shock, Strut and pressurized Motorcycle Fork that I service that has a vacuum filling port is Vacuum Filled.  Proper bleeding (removing air from inside the damper) is essential to the the performance and functionality of any pressurized Damper.
A Vacuum Filling machine is a tool that utilizes a port supplied in the body of most Öhlins pressurized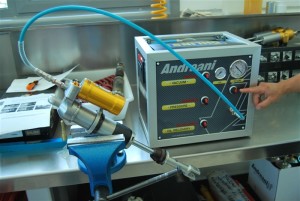 dampers.  With the Vacuum Filler attached to the damper filling port (the damper is empty of oil) a vacuum is pulled for several minutes on the damper and simultaneously on the fluid in the oil reservoir in the Vacuum Filling machine.  The Vacuum Filling machine then injects the out-gassed oil into the damper under pressure to insure almost no air is present inside the shock.   A Vacuum filling machine is an essential part of Öhlins service.  Most shops don't have this tool and hand bleed their Dampers.  Most other dampers on the market do not facilitate vacuum filling.  Most pressurized Öhlins product has a vacuum filling port and should be filled this way.
Vacuum filling has many advantages:
    •    Vacuum filling guarantees the elimination of virtually all of the air withing the shock.  Since air is compressible, any air withing the shock compromises damping efficiency.
    •    Vacuum filling pulls a vacuum on the oil that will be injected into the shock.  This out-gasses the Shock Fluid which further helps eliminate any gas contained in the oil.
    •    Vacuum filling is essential for Öhlins TTX  technology.